Your Tea Supplier for Restaurant and Cafes
Tea Blossoms is a 100% Australian owned boutique tea importer and wholesaler, bringing the finest teas from around the world to Australians.
Our customers love our teas because they deliver the most amazing flavours, with carefully curated and exclusive blends. The most common question we get is 'how do I get more of that?'
Our teas are carefully selected from growers with our sourcing partners, allowing us to bring you only the finest quality tea leaves and blends. We are honoured to share in the 4,000 year-old tea story, and invite you to be a part of the experience with our wide selection of only the finest teas.
All of our teas are crafted using the finest ancient tea traditions of brewing tea. Our range represents all styles from loose leaf to hand made blossoms.
Amazing flowering balls that provide a visual treat for your patrons.
Huge range of types, blends and formats including Green, White, Black, Oolong, Herbal, Fruit, Exotics, Blooming, Loose Leaf, Silken & Non-Woven Tea Bags and more.
Glassware available for a total solution.
Blooming menus design available for cafes & restaurants - let us help you with a carefully curated tea menu.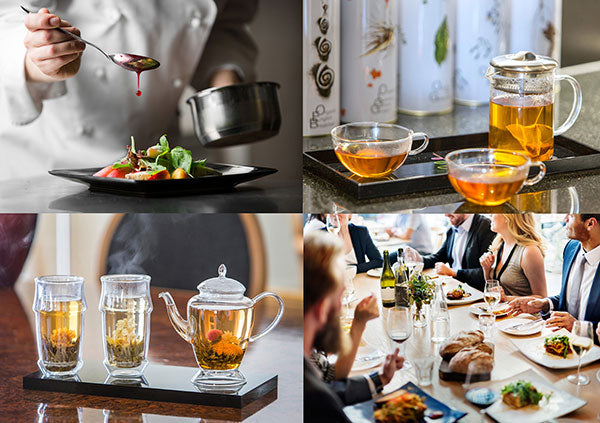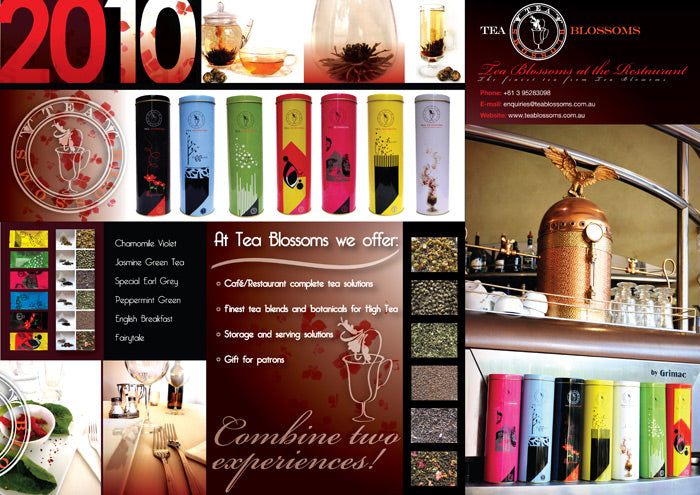 Our Classic range is available in Loose Leaf or Silken Pyramid tea bags:
English Breakfast
Special Earl Grey
Green Jasmine
Fairytale (signature blend - green tea with rose, marigold and orange petals Strawberry and Raspberry aroma)
Camomile Lavender
Peppermint Green (Moroccan Mint)
Lemon grass, ginger, goji berry
Chai
Sencha blossoms
Black Lemon and Berry (signature blend - black tea with marigold and rose petals Lemon and Berry aroma)
Wider range of teas is available in loose leaf.

At Tea Blossoms we offer:
Restaurant/Cafe tea solution
Silken pyramid tea bags
Loose leaf
Tea pot size Blooming balls
Cup size Blooming balls
Storage / Display containers
Serving solution (glassware, cups)

Finest tea blends and botanicals for High Tea

Gifts for guests or in house Gift Store

Storage and serving solutions
Please let us know if you are interested. We are happy to send you more information. Contact us now.To make our communication as efficient as possible, please forward the following relevant details:
Business name and address,

Contact name and number

Email and web site (if applicable)

What best describes your current or potential business... - Is it a cafe, restaurant, guest house, hotel, etc...
You are welcome to review our range by ordering a small sample order. Order sample now.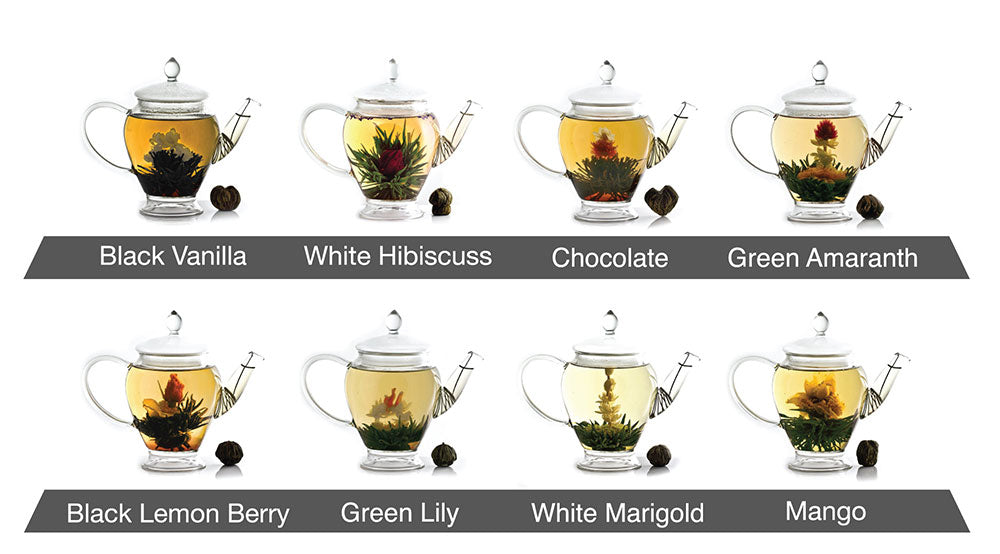 Happy with your current Tea supplier - great
We would like to offer you something extra.
Add Blooming Teas
What we are proposing is to add Blooming Tea as a speciality tea to your tea list. This approach has been successfully implemented in a number of fine restaurants and we are getting excellent client feedback.
Prolong the overall dining experience
In our programme we select only fine restaurants and we believe that your restaurant with it's exquisite dining is a great place to enjoy Blooming Tea. It would be great to finish off the dining with a cup of tea that will make a statement and will complement the overall dining experience.
Our support and commitment
It is our mission to ensure that the addition of the Blooming Tea to your menu would be very smooth. As part of the package, Tea Blossoms can supply all the necessary glassware (teapots, cups,) and Storage/Display solutions.
We are confident that Tea Blossom's wide range of high quality teas will be a successful addition to your menu.